Description
Sika Unsanded Grout is a PREMIUM, POLYMER MODIFIED, DUSTLESS PORTLAND CEMENT UNSANDED GROUT
Sika Unsanded Grout is a premium-grade, pre-blended, polymer-modified Portland-cement tile grout that requires only the addition of water for mixing. For grout joints from 1/8″ to 1/2″ (3 mm to 13 mm), SikaTile® 800 Unsanded Grout provides color-consistent, hard, and durable grout joints and features innovative Dustless Technology producing approximately 80% less dust than ordinary cement grouts and is designed to promote cleaner working conditions and reduce mess.
Check out each tab for more detailed information on SikaTile® 800 Unsanded Grout Below:
Product Description
Manufacture: Sika
Style:

Grout

Model: 800 Unsanded Grout
SKU: 648678-
Detailed Specifications
Series Name: 800 Grout
Type:

Unsanded Grout

Unit of Measure Quantity: 10
Unit of Measure : Pounds(s)
Application: Grout
Dry Color: 18 Colors (Refer to drop down selection)
Shelf Life: 15 Months from the date of production when stored in the original sealed package
Primer Required:

❌

Use Location:

Indoor | Outdoor

Chemical Base: Portland cement, selected aggregates, water retention additives
For Use on Ridges:

✔

For Use on Gouges:

✔

For Use on Depressions:

✔

For Use on Seams:

✔

Storage Conditions: Store in undamaged, original, sealed package, in dry conditions at 73⁰ F (23⁰ C)
Package Quantity:

1
Documentation | PDF Downloads
Packaging
Sold As: Bag
Weight Per Bag: 10 Pound(s)
Bags Per Pallet: 200
Disclosures
Country of Origin: United States
Shipping: We ship to all of the Lower 48 with UPS Ground or LTL Freight Solutions
Monitor Color: Colors will vary depending on the type of monitor, resolution, and calibration.
Returns Policy: NO REFUNDS. NO RETURNS.
ENVIRONMENTAL INFORMATION
Sika® is committed to environmental responsibility in products produced and manufacturing practices. Use of this product can contribute towards LEED® v4.1 certification:
Up to 2 points towards MR Credit 5, Regional Materials
Up to 1 point towards IEQ Credit 4.1, Low-Emitting Materials – Adhesives & Sealants
APPROVALS / STANDARDS
American National Standards Institute (ANSI) — ANSI A108.10 and A118.6 of the American National Standards for the Installation of Ceramic Tile ASTM International (ASTM)
ASTM C109 Standard Test Method for Compressive Strength of Hydraulic Cement Mortars (Using 2" or 50mm Cube Specimens)
Resilient Floor Covering Institute – (RFCI) Recommended Work Practices for Removal of Resilient Floor Coverings
Tile Council of North America (TCNA) – TCNA Handbook for Ceramic Tile Installation, TCNA EJ171 Movement Joint Guidelines.
Compressive Strength
> 4,000 psi (ANSI A118.6 Section 4.5)
Flexural Strength
> 400 psi (ANSI A118.6 Section 4.7)
Shrinkage
< 0.3% (ANSI A118.6 Section 4.3)
Tensile Adhesion Strength
> 300 psi (ANSI A118.6 Section 4.6)
Water Absorption
< 18% (ANSI A118.6 Section 4.4)
Application Information:
Mixing Ratio
2.75 – 2.85 pints (1.30 – 1.35 L) of cool potable water per 10 lb. box
Applied Product Ready for Use
Do not disturb grout or walk over installed tiles for at least 24 hours after setting.
Do not allow heavy traffic over installed tiles for at least 72 hours after setting.
For residential showers and tub surrounds, restrict use for 24 to 48 hours after grouting.
For steam showers, restrict use for 14 days after grouting.
Like other Portland cement products, SikaTile® 800 Unsanded Grout will reach full curing in 28 days.
Consumption: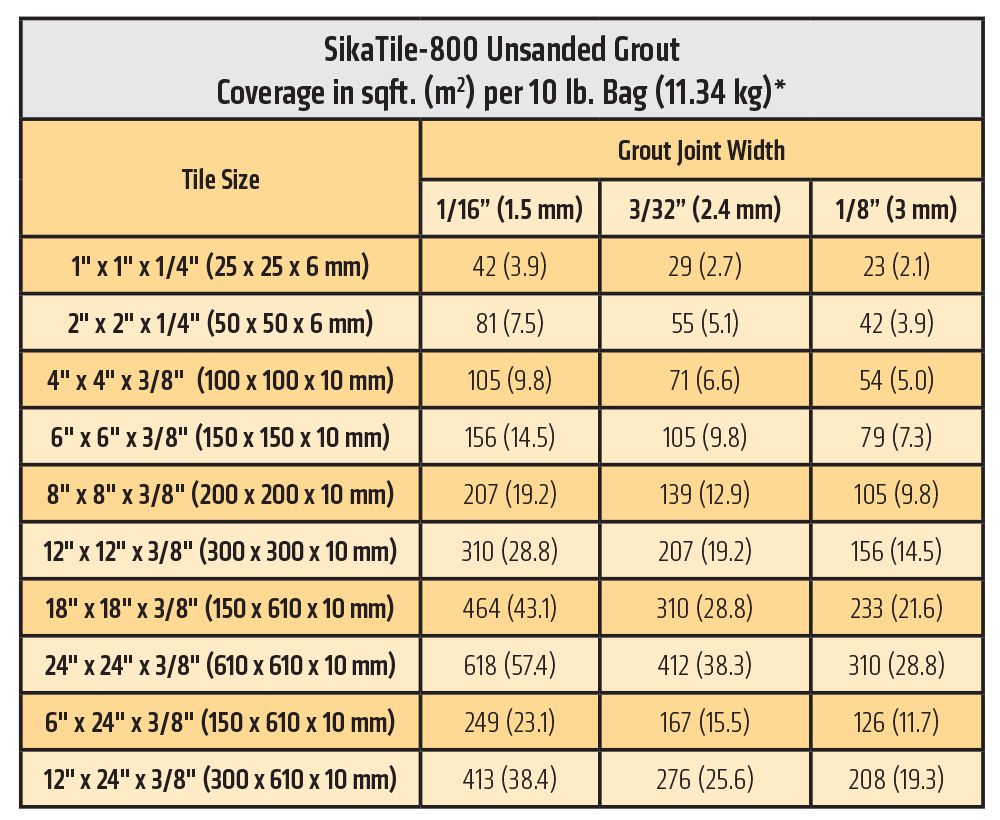 Application steps:
MIXING
To minimize color variation when using multiple containers of the same grout, dry blend the powders prior to the addition of water.
Add approximately 2.75 – 2.85 pints (1.30 – 1.35 L) of cool potable water for every 10 lbs. (4.53 kg.) of SikaTile® 800 Unsanded Grout in a clean mixing container.
Add the grout to the water slowly; blend by hand or power mixer at low speed (less than 200 RPM).
The ideal grout looks stiff but has a creamy consistency.
Allow the grout to slake for 5 minutes then remix.
Periodic mixing during use keeps the grout workable, but do not add additional water or additives.
When the grout becomes dry and difficult to work, discard and make a new batch.
For best results on multiple mixes, have the same person mix the grout to ensure the repetition of the mixing technique.
APPLICATION
Read all installation instructions before installation and reference ANSI A108.10-1999.
Slightly moisten the tile surface with a damp grout sponge before application.
Holding a rubber grout float at a 45° angle, force grout diagonally into joints ensuring joints are completely filled.
Remove excess grout using the edge of the float held at a 90° angle.
Cleanup can begin as soon as the grout becomes firm enough to only be slightly indented when pushed.
Use as little water as possible for grout cleanup.
Excess water will cause variation in color and may cause shrinkage, cracks, or pinholes.
Smooth and level joints and, in a circular motion, remove excess grout from tile with a moist small-pore grout sponge.
It is best to change the cleaning water and rinse the sponge frequently.
Using clean water and a sponge will enhance color uniformity.
Remove haze from the tile surface with a soft, dry, microfiber cloth.
FINAL CLEAN-UP:
After 24 hours, the grout installation can be cleaned with clean water. Cleaning with acid is not recommended.
MOVEMENT JOINTS:
All expansion, control, construction, cold, saw-cut, isolation, contraction, and seismic joints in the structure should continue through the tilework, including such joints at vertical surfaces, as specified per TCNA Method EJ171 or TTMAC Specification Guide 09 30 00, Detail 301MJ.
MAINTENANCE:
Sealing is not required, but if used apply using a high-performance penetrating grout sealer following the manufacturer's directions. Grout must be fully cured for 21 days before regular cleaning. To maintain a clean tile surface, use a neutral-pH cleaner for maintaining the floor, followed by a clean-water rinse. Do not use harsh chemical cleaners to maintain the tile surface. Before proceeding with cleaning, consult the cleaner's manufacturer for compatibility, use, and application instructions. Remove or rinse fatty acid residue from the grout surface to avoid potential grout deterioration caused by prolonged exposure.
CLEANING OF TOOLS
Clean tools and tiles with water before the material dries.
FOLLOW US ON SOCIAL MEDIA